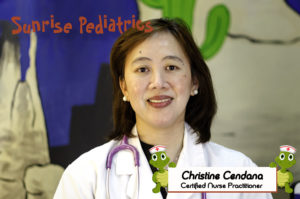 Christine Cendana is a board-certified Family Nurse Practitioner. She graduated from UNLV in 2010 with degrees of Master of Science in Nursing and Family Nurse Practitioner. She also has degrees in BS Biology as well as Medical Degree at the University of Santo Tomas in the Philippines.
Prior to migrating to the USA, Christine trained and worked as a Clinical Dermatologist in Metro Manila, Philippines. She eventually decided to migrate and pursued an NP career in this country. She has vast experiences in both adult and pediatric medicine. She is also a strong advocate of helping and guiding parents and relatives of children with special needs, having been the mother herself of a kid with special needs.
Christine is also a very good patient educator. She always believes in the importance of shared decision making between the healthcare provider and the patient as well as their guardians.
A woman with a great sense of humor, Christine also calls herself" Cinderella" during weekends since she stays at home most of the time doing household works. But, she also enjoys meeting up with good old friends and having a cup of coffee.